US State Department Approves $104 Million Sale of JLTV Heavy Gun Carriers to Romania
The U.S. State Department has made a determination approving a possible Foreign Military Sale to the Government of Romania of ninety-five (95) M1278 Joint Light Tactical Vehicles (JLTV) Heavy Gun Carriers and related equipment for an estimated cost of $104.0 million. This amendment will push the current case above the MDE and total case value notification thresholds and thus requires notification of the entire case. The original FMS case, valued at $43.73 million, included thirty-four (34) Heavy Gun Carriers JLTVs. Therefore, this notification is for a total of one hundred twenty-nine (129) M1278A1 Heavy Gun Carriers Joint Light Tactical Vehicles.

Also included are VRC-104 radio kits; VRC-114 radio kits; baseline integration kits; basic issue items; Defense Advanced GPS Receivers (DAGRs); DAGR integration kits; network switch ports; exportable power kits; silent watch energy storages; power expansion kits; RF7800i intercom kits; combat bumper kits; winch kits; flat tow kits; run flat kits; spare tire kits; commander supply display units; improved turret drive systems; M1114 turret ring hatches; 2-year contractor spare parts package; technical assistance; total package fielding; technical publications/manuals; and other related elements of logistics and program support.

The Oshkosh L-ATV (Light Combat Tactical All-Terrain Vehicle) is a light utility/combat multi-role vehicle that won the US military's Army-led Joint Light Tactical Vehicle (JLTV) program. The L-ATV was designed to deliver a level of protection comparable to that of heavier and less maneuverable Mine Resistant Ambush Protected (MRAP) class designs. The JLTV family and its nomenclature evolved throughout the development process and to date the U.S. Army has allocated M designations to four individual JLTV configurations. The JLTV family now consists of four base vehicle platforms: M1278 Heavy Guns Carrier, M1279 Utility, M1280 General Purpose and M1281 Close Combat Wєαρσиs Carrier .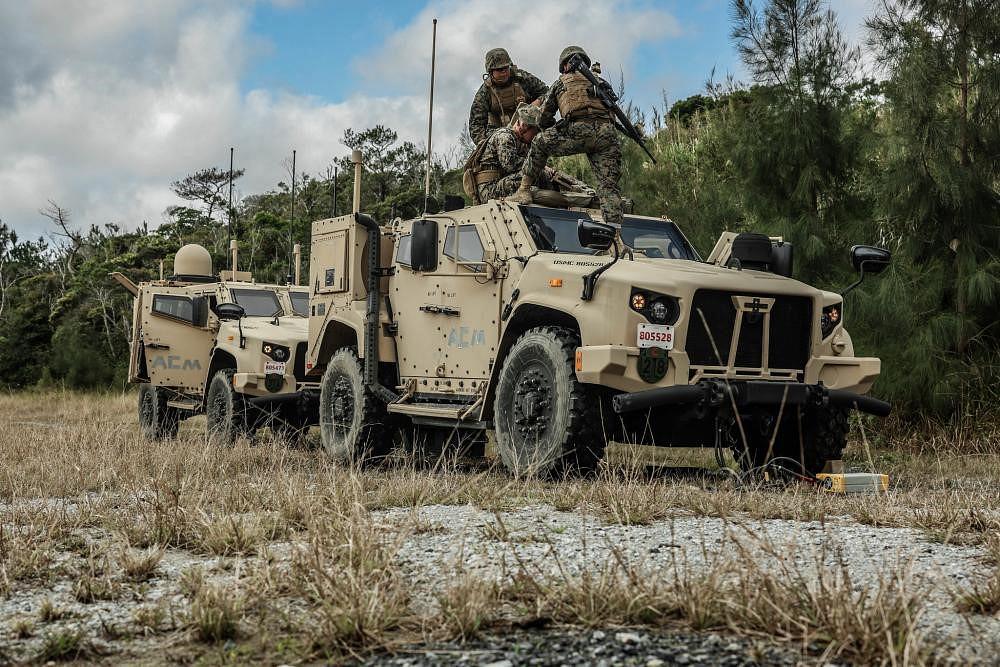 With a multitude of manned and remotely operated ωєαρσи configurations, the Oshkosh Defense JLTV M1278 Heavy Guns Carrier (HGC) can pack a lethal punch. This vehicle is designed for crew-served and remote ωєαρσи systems. With a protected gun mount, it is the principal light vehicle for over-watch and direct fire support of infantry maneuvers, convoy escort and security missions. Advanced non-kinetic ωєαρσи systems (e.g., lasers) can also be integrated to defend against swarming UAV threats. JLTV Heavy Guns Carrier (HGC) unrivaled TAK-4iTM intelligent independent suspension system provides unimpeded mobility across the most treacherous terrain.
Source: https://militaryleak.com/